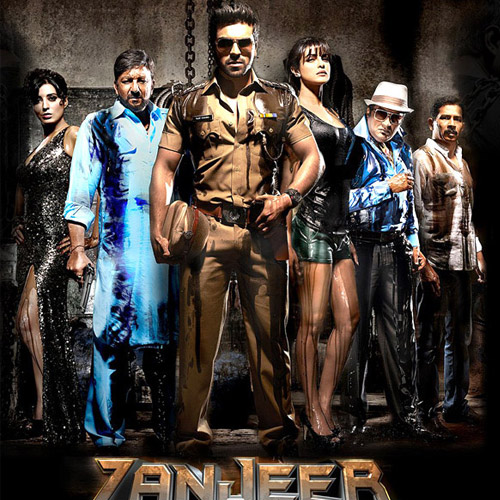 In a setback to script writers Salim Khan and Javed Akhtar, the Bombay High Court on Monday refused to stay the release of filmZanjeer, a remake of the hit Amitabh Bachchan-starrer of the same name, made by Prakash Mehra, which is slated to hit screens this Friday.
Salim and Javed had filed a suit in the High Court claiming they had copyrights over the script, story and dialogues of the 1973 blockbuster Zanjeerand demanded Rs six crore as monetary compensation from the kin of Prakash Mehra for remaking the film.
The duo contented they had the copyrights on the script of the old film and they had allowed Prakash Mehra to produce the film based on their script just once. Hence, a remake could not be produced without their permission.
However, Justice SJ Kathawala did not grant any interim relief by staying the release of the film. He cited two grounds for refusing interim relief. One was the delay made by the plaintiffs (Salim and Javed) in giving defendants legal notice and filing the suit against them. The other was that the plaintiffs were demanding monetary compensation.
Soon after the verdict, the counsel for the plaintiffs, Ravi Kadam made an oral plea before a division bench headed by Justice D Y Chandrachud who asked him to file a written plea and posted the matter for hearing on Tuesday.
Justice Kathawala, dismissing the notice of motion moved by Salm and Javed, said "in this case, the plaintiffs have not only delayed issuing of the legal notice as well as filing of the suit against the defendants but have themselves asserted that a sum of Rs six crores would be a fair and reasonable monetary compensation".
"The plaintiffs are, therefore, not entitled to a mandatory injunction as sought even if this court would have come to the conclusion that the plaintiffs are the owners of the copyright as alleged since the plaintiffs' claim falls within the provisions of Section 38(3)(c) and not under Section 38(3)(b) of Specific Relief Act", the judge ruled.
Under section 38(3)(c) of the Act, a court can grant permanent injunction in cases where the defendant invades plaintiff's right and the invasion is such that compensation in money would not afford adequate relief.