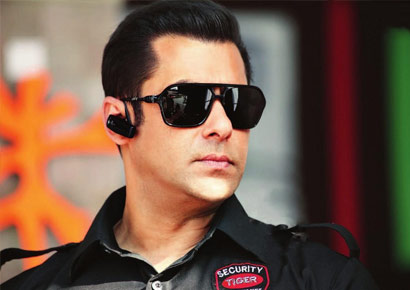 By Babu Ram : Film: Bodyguard
Director: Siddique
Cast: Salman K
han, Kareena Kapoor, Raj Babbar and others
Rating: ?

I was made familiar with the story of the original Bodyguard (in Malayalam) about a year ago and couldn't help but wonder how silly it was. When the Hindi remake was announced, I hoped the story would be tweaked (especially the way it ends) to make it a better, more enjoyable film. As I watched the Hindi version, I realised the plot had been left untouched. And it was still just as silly.

Eid is the time for a Salman Khan blockbuster and you expect a film replete with dialoguebaazi, maardhar and some outrageous moments that are made enjoyable due to Salman's ability to pull off the zaniest scripts. Bodyguard has none of these. For a change, there's a more definite story than usual but it's so convoluted and stupid, you'd have actually settled for a film with a lesser story, but which entertained more.

Talking about the story would be futile, so these are some things about Bodyguard you may want to keep in mind: The humour isn't funny, although the attempts never cease. The 'emotional' scenes, on the other hand, are hilarious (check out Raj Babbar hamming it up in the climax; Nasir Hussain would have been proud). The romantic track doesn't strike a chord because the setup is implausible. The action is good, but not good enough to salvage the rest of it. What's left of Bodyguard is its charming lead pair — and they can do little with weak roles that do nothing for their personas.

Salman, for example, plays a seedha character taken for a ride by not one, but two women. Repeatedly. It's okay to have Salman play a simpleton with a heart of gold, but the character comes across as utterly daft. To his credit, Salman is charming as ever, and the fact that he's playing a slightly different character would have actually worked to the film's advantage if it was backed by a better script. Kareena looks ravishing, but does little than whine and whimper through most of the film. The duo's chemistry crackles onscreen, though.

If there was a way to pass a law that would ban someone from acting, I would want Rajat Rawail to come under it. As the portly Tsunami, Rawail grates on nerves, fiercely competing with the annoying 'tyaon tyaon' ringtone on Salman's phone.

The film is technically sound. Fefsi Vijayan's choreography of the action is among the plusses. Himesh Reshammiya's music is good; 'Teri meri kahaani', especially, stays with you for a long time.

It's amazing that writer-director Siddique has made a success of the same story twice before (He remade it in Tamil as Kavalan, starring Vijay), and the Hindi Bodyguard seems set to strike big too. But unquestioning Salman fans — who turn out in hordes to watch his films, ensuring producers laugh all the way to the banks in the process — deserve better. But sadly for them, even Salman Khan isn't reason enough to endure Bodyguard. Pity.